One of the things we love to do when preparing for intention setting is clearing the space and preparing the mind to quieten. This is cleaning the space, removing all clutter and smudging which is an ancient ritual for purification. Lighting the palo santo or a smudge stick can signify the letting go of everything that has happened before to make way for intention setting with a purified mind and space.
Sage:
The Latin word for sage: Salvia officinalis stems from the word, heal and to be healthy.
Sage is known to connect you with your inner wisdom and destabilize negative energy. Historically sage has been used for purification ceremonies to get rid of any unwanted persisting energies.
Sage carries the vibration of wisdom. Plants are living things that like you have a soul and spirit.  By burning sage or palo santo you connect with the nature that sustains us as well as the spirit of the plant.  When burning sage and palo santo with intention you are asking the smudge stick to lend its cleansing power to clear and protect you, your space, and your energy.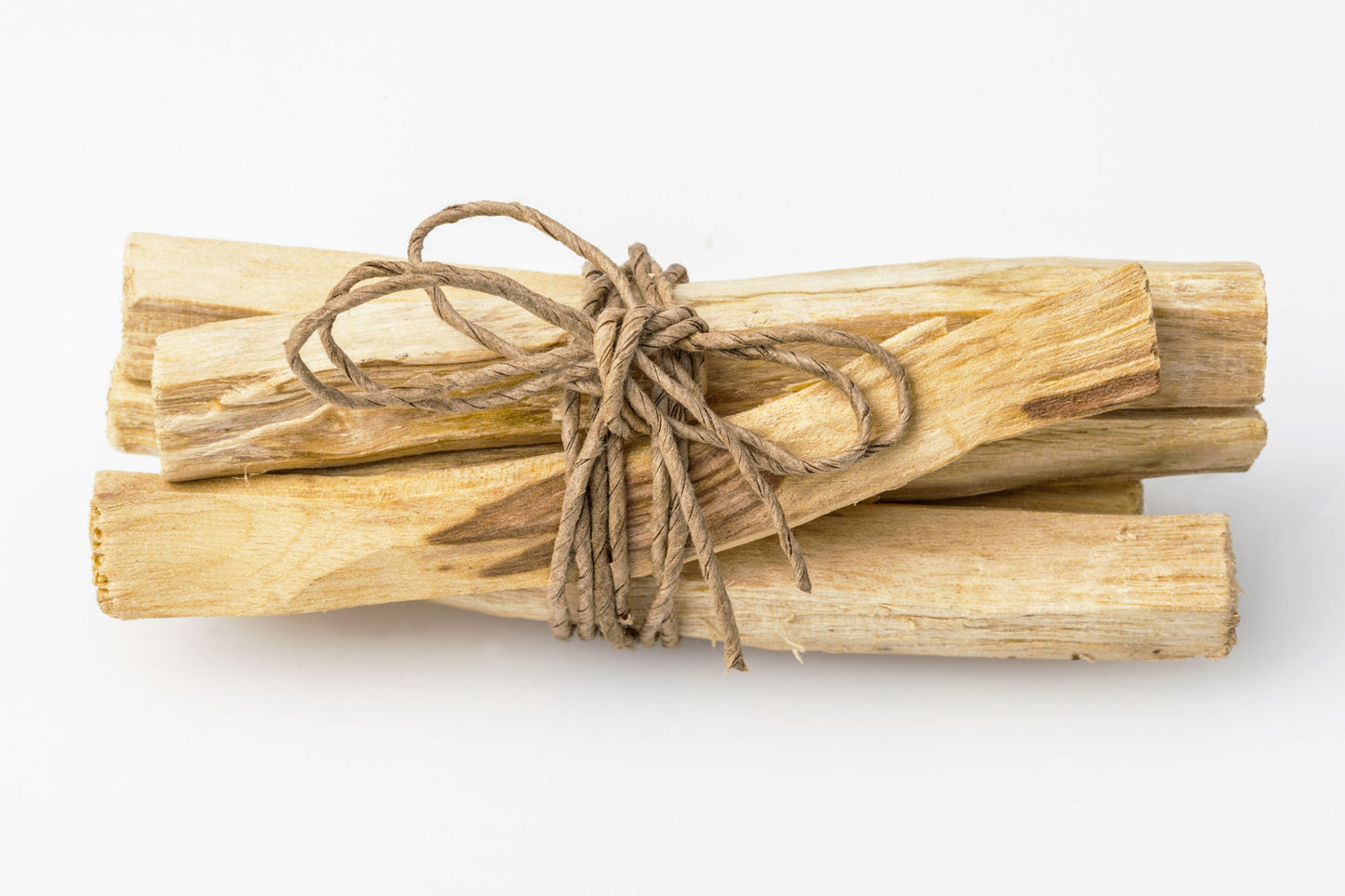 Palo Santo
Palo Santo is a sacred tree and has been used for centuries by shamans in rituals and healing. It is also very common to use by householders in South America to let go of the old and welcome in the new.
Particularly common during the new year period. Holding both a grounding and reviving scent makes it the perfect aroma to cleanse your space.
Ritual
Set your intention to clear the space and prepare your mind.
Light the Sage or Palo Santo with a candle and allow to burn for 30 seconds before blowing out. Use an abalone shell, to bring in the element of water.
Open all the windows in your room/or house walk around the space covering all corners, and watch as the smoke picks up an moves through the window.
Once you've finished smudging your space, sit down on your meditation cushion. 
 Cleanse yourself with the smoke. Throwing the smoke over your head, eyes, ears, heart and body. This  symbolises the cleansing of all you have felt in the heart, body and mind and all you have seen. Removing the unwanted energy you have accumulated through the senses and your body over your day/week and perhaps your lifetime. 
Butt out your smudge stick in your abalone shell or fireproof vessel. Take care to ensure it is completely out.

 Sound your singing bowl to signify you are ready, to turn inwards, and set your intention.
This ritual will help you clear your space and mind unobstructed by thoughts and issues that precede this moment. Using your Aromatic Grounding Spray is also a great alternative to smudging with smoke.
A synergy of Pure Essential oils chosen for their calming, grounding and clearing effect. Perfect to clear the space before and after meditation/yoga practice or use as a personal mist, to clear the mind and induce a sense of peacefulness.
Made by  Angela ~ a qualified Aromatherapist.
Ingredients: Rose Otto Floral Water, 100% pure essential oils of Atlas Cedarwood, Palo Santo, Patchouli & Bergamot
When to smudge? 
-  If you have had a big day with a lot of other people's energy around. Particularly good if you have renumerating thoughts from the day in your conciousness
- During times of difficulty
- To intercept a feeling of stress
- If you work with people in a healing nature before and after each client
- Prior to intention setting
- Before or after Yoga and Meditation. If teaching it's a great thing to do between classes. 
Angela Knight
Calm Buddhi Ma
Yoga, Meditation and Yoga Nidra Teacher