Our busy lives give us plenty of reasons to toss and turn. From looming work deadlines to escalating business crises, there's always something to keep our minds engaged until the very wee hours of the night.
These stressors can often cause sleeplessness and insomnia. This lack of sleep can create a further imbalance in our nervous system and disturb the natural restorative mechanisms that are innate in us.
Fortunately, there's a natural solution to lacking deep and restorative shut-eye: Yoga.
Supported reclined yoga poses like supported bound angle pose (supta baddha konasana) and Legs up the wall (Viperitta Korani) can help to begin the relaxation process and calm the mind.
We've gathered three more yoga poses to help you find deep and restorative sleep. As we delve into them, you'll learn:
How these three yoga poses promote deep sleep
How to perform the three yoga poses effectively
The best yoga accessories to use
1 - Reclined Supine Spinal Twist (Supta Matsyendrasana)
Focus: Lower back, hips, and shoulders
Level: Beginner
Total Time: 60 seconds per repetition
You've probably realised that sitting at the office or school all day builds up tension in your lower back that becomes particularly noticeable in the evening.
The gentle twisting motion of the supine twist is very effective at relieving you of that uncomfortable stiffness and pain that impacts sleep quality.
This pose lengthens out the muscles along your spine, increasing blood circulation, which helps to reduce tension from your lower back.
The pose also engages your shoulders and hips, which are notorious spots for harbouring stiffness after long periods of sitting.
GETTING READY FOR THE SUPINE SPINAL TWIST
This supine twist variation involves resting your back with one knee facing your side. You'll need a yoga bolster under your knee to take pressure off your leg and enable you to comfortably hold this shape for 1-5 minutes.
Remember, this pose is meant to lengthen and relieve tension from your muscles, so you need to stay as comfortable as possible. We recommend using our Oval or Round Yoga Bolster (mentioned earlier) to support your raised leg, Yoga Pillow for neck and head comfort and a scented eye pillow to help turn your awareness from your outside world to your inner world.
How to Perform the Supine Spinal Twist
With the round or oval yoga bolster, yoga pillow and eye pillow ready:
Start by laying on your back, resting your head on the pillow.
Hug your right knee to your chest
With your left hand, guide your right knee over to your left coming into the twist, resting your knee on your yoga bolster
Place your eye pillow over the eyes
Lengthen your arms to the side in a "T" shape
Hold this pose for 3-5 minutes and repeat for the other side.
Expert Tip: Incorporate eye pillows for an enhanced meditative experience. They will help focus your awareness on the present by drawing attention to your breathing and muscles— this helps you to calm the mind.
2 - Legs up the Wall Pose (Viparita Karani)
Focus: Spine, hips, legs, and feet
Level: Beginner
Total Time: Up to 15 minutes
The legs up the wall pose is a simple body inversion yoga exercise that relaxes your mind and lower body for better-quality sleep.
This pose activates your parasympathetic nervous system, the network of nerves responsible for calming your body after a period of stress or danger. In this calm state, your brain becomes less engaged, and primed for a deep and restorative sleep cycle.
Be sure to incorporate deep breathing exercises to evoke a relaxed state and get the most out of this yoga pose.
For instance, use the 4-7-8 technique which involves inhaling for 4 seconds, holding your breath for 7 seconds, and exhaling for 8 seconds.
Getting Ready for the Legs up the Wall Pose
First, focus on getting as comfortable as possible. Select the most suitable environment, preferably a well-spaced and ventilated spot.
This pose entails raising your back off the ground right beneath your waist, so you'll need a form of support to stay relaxed and prolong the exercise. We recommend using one of our Oval Yoga Bolsters for perfect posture and maximum comfort.
Our bolsters are generously sized to create a stable, comfortable lift for back bends or inverted poses, such as legs up the wall. They'll help take pressure off your lower back, increase in the inversion effect and enable you to perform longer for maximum benefits.
With your oval yoga bolster and eye pillow ready:
1. Position your mat and yoga bolster next to the wall.
2. Place the length of the bolster near the wall. A palms width is a good measurement for most
3. Sit on the bolster with your side to the wall
4. Use your hands to support you to take your legs up the wall.
5. Shift your hips as close as you can to the wall
6. Lower down onto your forearms before lowering the upper back to the floor

7. Support your head with a blanket and relax even more with an eye pillow over the eyes.

8. Bend your knees slightly if you feel any tension in the hamstrings

9. Allow the arms to rest where you feel comfortable

10. Feel the body soften into the bolster and floor.

11. Focus on the breathing technique and stay in the pose for up to 10 minutes
Expert Tip: Use an eye pillow to block out light and keep you focused.
We use lavender and bergamot in our eye pillows which is known to help to calm the mind and assist with sleep.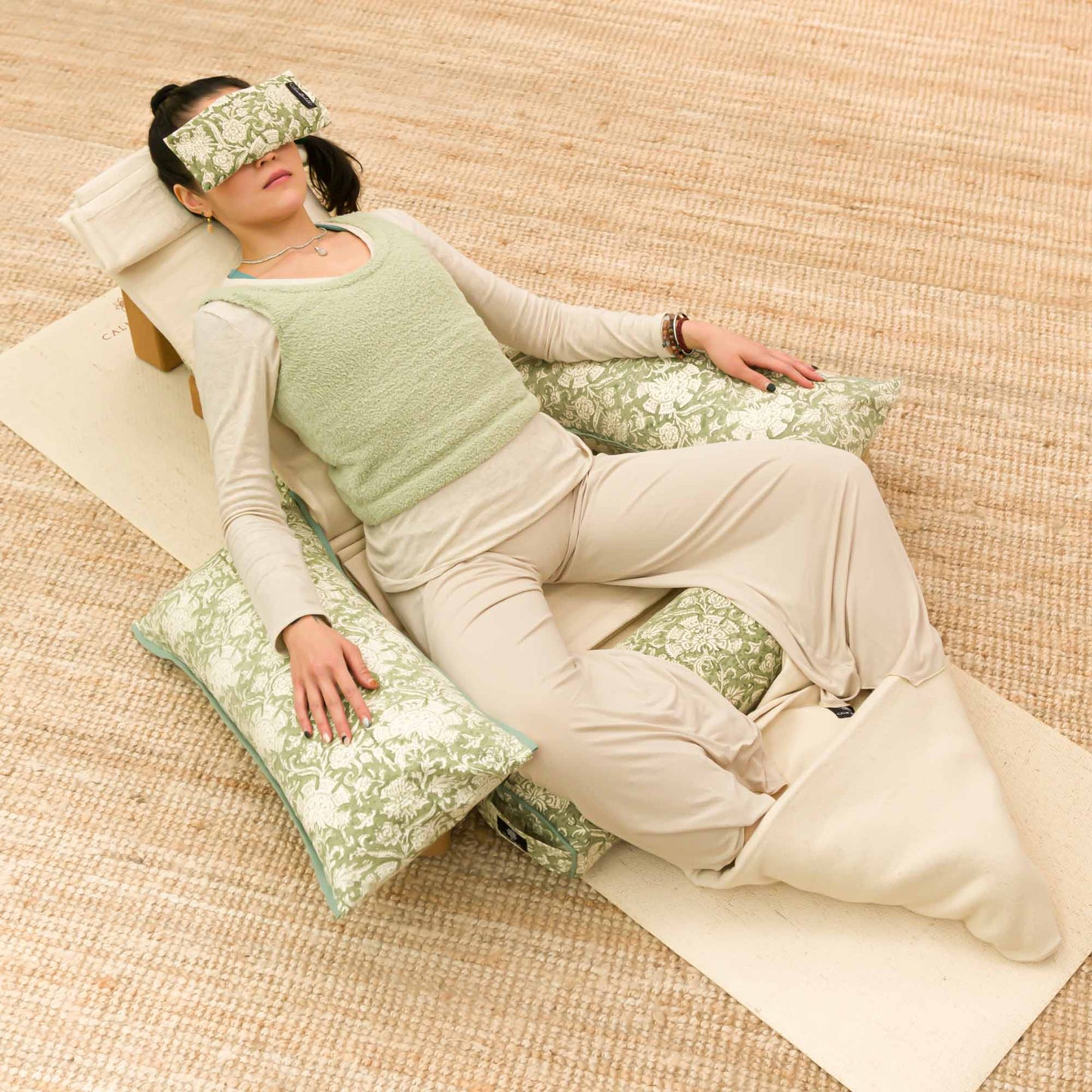 3 - Supported Bound Angel Pose (Supta Baddha Konasana)
Focus: Spine, chest, hips, legs, and feet
Level: All
Total Time: Up to 15 minutes
Supported bound Angle pose is a yoga asana that helps to turn your attention towards the comfort of the pose. It offers a relieving stretch on your chest, inner thighs, and abdominal muscles, where a lot of tension can be stored.
This pose quietens the abdomen and is excellent during menstruation, pregnancy and postpartum
As this asana is very relaxing, it can help you move into the rest and digest (parasympathetic)  part of your autonomic nervous system.  Supported bound-angel can relax your mind and whole body for better-quality sleep.
GETTING READY FOR THE SUPPORTED BOUND ANGLE POSE
Get your props ready. To get the most out of this pose we recommend:
First, lay your yoga mat down with one yoga blanket on top for extra cushioning and warmth.
Next, place two blocks underneath the oval bolster to elevate the bolster.
Position the yoga pillows over two cork yoga blocks so the fingertips are higher than the elbow.
Position the pranayama or round bolster underneath your knee creases. Use a blanket to fold over the top of your feet.
Have a blanket and eye pillow close by.
how to perform the SUPPORTED BOUND ANGLE POSE
Make sure your lower back is supported by the oval bolster. To do this you will need to rest your seat firmly against the short edge of the bolster. If you feel you need more support, roll up an extra blanket and wedge it under the bolster (where it meets the floor).
Support your chest with a firm bolster that does not sag.
With your extra blanket, provide full support for your head to ensure there is no unnecessary extension in the cervical spine.
Add additional support under the arms with yoga pillows or rolled-up blankets
With a bolster under your knees, fold a blanket over the top your feet and thread it underneath through to the center.
The following table highlights the items that will help you perform each of the yoga meditation poses discussed above.
Let Calm Buddhi Show You More
So, there are three of our favourite yoga poses to help you wind down for sleep.
At Calm Buddhi, we deeply love yoga and meditation and can't wait to share our knowledge, inspiration, and years of reflections with you.
We'd love to help you:
Find comfort in your yoga practice
Create a beautiful sanctuary for yoga, meditation and self-care
By offering posture variations using accessories
A great place to start is with our Yoga Bundles which help to support your yoga practice, customise your space, and facilitate variations to keep you practicing with steadiness and ease
Angela Knight
Calm Buddhi Ma
Yoga, Meditation and Yoga Nidra Teacher